Who Is Eligible to File a Defective Earplug Claim for Hearing Loss?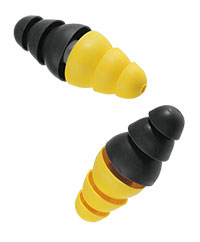 Between the years 2003 and 2015, a vast number of American armed forces members used defective 3M combat earplugs and were exposed to a risk for full or partial hearing loss. More than two million pairs of the defective 3M earplugs were sold to the Department of Defense and were standard issue in Iraq and Afghanistan. The defective combat earplugs were developed by Aearo Technologies, which was acquired by 3M in 2008; a whistleblower lawsuit filed in 2016 brought the combat earplug defects to the fore, revealing a trail of deceit and disregard for federal law.
As early as 2000, during internal testing, Aearo Technologies became aware of a design defect that rendered the Combat Arms Earplugs ineffective in some persons. The shaft of the earplug was too short for some ear canals; in these cases, the earplug could shift slightly and imperceptibly, loosening its seal with the ear canal and leaving the ear drum exposed to a range of damaging battlefield noises. Whether the ongoing drone of a helicopter or tracked vehicle, or the acute bursts of extreme noise from battlefield explosions, armed forces members wearing defective 3M earplugs were left unprotected and in harm's way.
Persons who developed unilateral or bilateral hearing loss while wearing 3M Combat Arms Earplugs known as CAEv2 are seeking clarification of the qualifications required to participate in a combat hearing loss lawsuit. Our law firm offers free, no-obligation, confidential consultations to anyone who feels they may have a claim, but we have outlined the basic qualifications in this section. In general, these are factors that are considered in each 3M earplug lawsuit claim.
Use of Defective Combat Earplugs
Issued to millions of servicemembers in Iraq and Afghanistan, these defective ear plugs manufactured by 3M failed to maintain a tight seal due to a design defect. If you or a loved one used Combat Arms Earplugs while serving in the military in any capacity, you may be eligible to file a combat earplug claim.
Partial or Total Hearing Loss
Unilateral and bilateral hearing loss are documented side effects of 3M's defective Combat Arms Earplugs. The too-short earplug shaft means the device can shift slightly, breaking the protective sound seal. When the seal is lost, the individual is no longer protected from the many damaging noises of combat. During the time 3M combat earplugs were in use, the number of veterans suffering from hearing loss rose to reach a record high. If you or a loved one developed hearing loss from defective earplugs while serving in the Army or Marines, you may be eligible to file a combat hearing loss claim.
For persons and family members of persons who meet these qualifications, it is likely you will be eligible to file a 3M earplug lawsuit for combat hearing loss. There are multiple reasons to file a claim. First, military hearing loss lawyers believe individuals who have suffered as a result of combat earplug defects may be eligible for compensation for the expense of medical treatment, pain, suffering, and loss associated with full or partial hearing loss. More meaningful than that to some is the opportunity to hold a large corporation accountable for the safety of its products and its adherence to federal law. Evidence shows the developers of this product were aware of its dangerous defects before the earplugs were ever sold to the Department of Defense, and that company officials manipulated test results to conceal the defect.
Attorneys offering free, no obligation Combat Arms Earplug lawsuit case review are available to speak with you and your family about your circumstances. To learn more about filing a lawsuit for combat hearing loss, please fill out the simple form on this page.
---
Let Our Army Earplug Attorneys Help You
Our attorneys specialize in holding large corporations accountable when they've placed profits ahead of safety. Through settlements and winning verdicts, our attorneys have obtained millions for our clients. Let us help you today.
Lawsuits for Defective 3M Earplugs
Filing a lawsuit will allow you to hold 3M accountable for damage it has caused you or a loved one, while also providing real compensation for your medical expenses, suffering and loss. Contact us today for a free consultation.